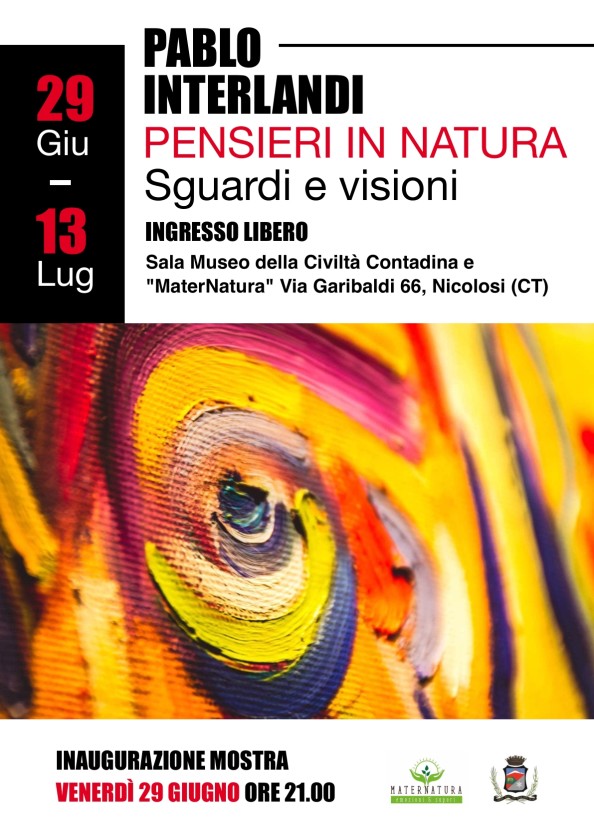 JUN 29TH – PENSIERI IN NATURA – sguardi e visioni
"Essential elements transform themselves into the search of a landscape that represents the emotional bond, the reflective spark; the nook where the child, the poetry, the memory, the contact with the deepest breath take shelter. A Natural World upon which gazes and sights dance, as if they were thoughts.
From June 29th to July 13th, 2018.
The Museo della civiltà contadina in Nicolosi (CT) will host Pablo Interlandi's exhibition, whose title is "Pensieri in Natura – Sguardi e Visioni". This event is sponsored by Comune di Nicolosi, with the support of "MaterNatura" (Nicolosi).
On Friday, June 29th, at 19.00  the introductive conference will be led by the Psychoanalyst  Giancarlo Costanza.
We thank "MaterNatura" for the support, and  "Le Tenute San Gaetano", "La cantina ai Due Mori" and "La Valigia di Bacco" that will prepare the catering.
Free entrance.
Museum timetable:
10.00 – 13.00 / 17.00 – 20.00